One of my favorite blogs is The Teeritz Agenda. Every year, it ends with a summary of most worn watches, some typewriters, sunglasses, cameras, books and the occasional model car. I enjoy reading and watching it, and although I am not a good photographer, I decided to shamelessly imitate the Teeritz style.
I've only worn 4 wristwatches in 2021. I have more in my watch box, but I only wore 4. Here are 3 pictures of them. The fourth watch is a Casio F91w. It's a famous no-nonsense lcd-watch which I use when I work in the garden or try to fix something at home. After selling my typewriters in 2018 I didn't own any at all for some time. Now I own 3 typewriters. Two of them were acquired this year and I find myself longing for more. Let's start:
Number 3 - Pulsar Calculator Watch
I bought this Pulsar Calculator Watch from a US auction site. It's a led watch with build-in calculator. It predates the well known Seiko en Casio LCD calculator watches. This is the Euro style version, which is less bulky than the US-style Pulsar Calculator. Led watches were build for a short period in the early seventies, simply because posterior LCD technology was superior. I discovered this the hard way, as I paid 500 dollar for it (+ another 500 dollar of auction, shipping and import costs). It is in almost mint condition and worked perfectly when it arrived. I was as happy as a child; as an employee of the National Institute of Statistics, this was quite the watch for me.
Three days later, the led-module died. Before buying it I already knew this was risky business, as led-modules are notoriously fragile. But still, it was a big disappointment. I hope someday someone will be able to build new led modules for these Pulsar Calculator Watches.
Before the led module died, I made 2 videos of the Pulsar Calculator, showing the flipping of the wrist mechanism (which is pretty need for 1970's technology) and the calculator function.
Also in the frame;
Typewriter - my
Hammond 2
, which I bought in 2020. It's a early model 2 with some features of a number 1 (like the steel platen knob). It was originally imported to The Netherlands and belonged to the same family for around 90 years before I was able to buy it. It stands proudly under a plexi cover in the living room. No dust or small children hands will ruin it. It's not for typing, it is just nice to look at and admire the design and mechanism.
Model cars - two Jaguars. The blue one is my favorite model, a Jaguar XJ12 series 2. This Matchbox variation features a caravan, which doesn't suit it imho. It's more like a car for business man, not for camping guests. The yellow Jaguar is made by Husky and is a XJ6 series 1. I prefer the front of the series 2. Once, when I'll have a garage, I will buy a real series 2. The lines of this car are just pure perfection.
Books - the 1949-edition of Ernst Martin, die Schreibmaschine und ihre Entwicklungsgeschichte. It must be the only German book that I've read from a to z voluntarily. Everything you need to know about antique typewriters is in it. In the back you can see my copy of Typewriter, a celebration of the ultimate writing machine, by Paul Robert and Peter Weil. This is typewriter porn of sometimes very obscure machines. You should read Ernst Martin and use the pictures of Paul Robert.
Number 2 - Seiko 6138-8030 JPS
This Seiko 6138-8030 arrived in late 2020. It's an automatic chrono from 1977 with original bracelet. I found it on the English Ebay and had it served by a guy from the Dutch watch forum. I was looking for this model for a long time, as I really like the JPS colors. JPS stands for John Player Special, which is a cigarette brand which sponsored racing cars in the '70s and '80s. Those cars were painted with gold letters (JPS) on black, which looks stunning. Other brands, like Seiko, seemed to have followed this fashion of black and gold color schemes for their product. Rolex did the same with the Paul Newman Daytona: one of the nicest watches on earth (but criminally expensive):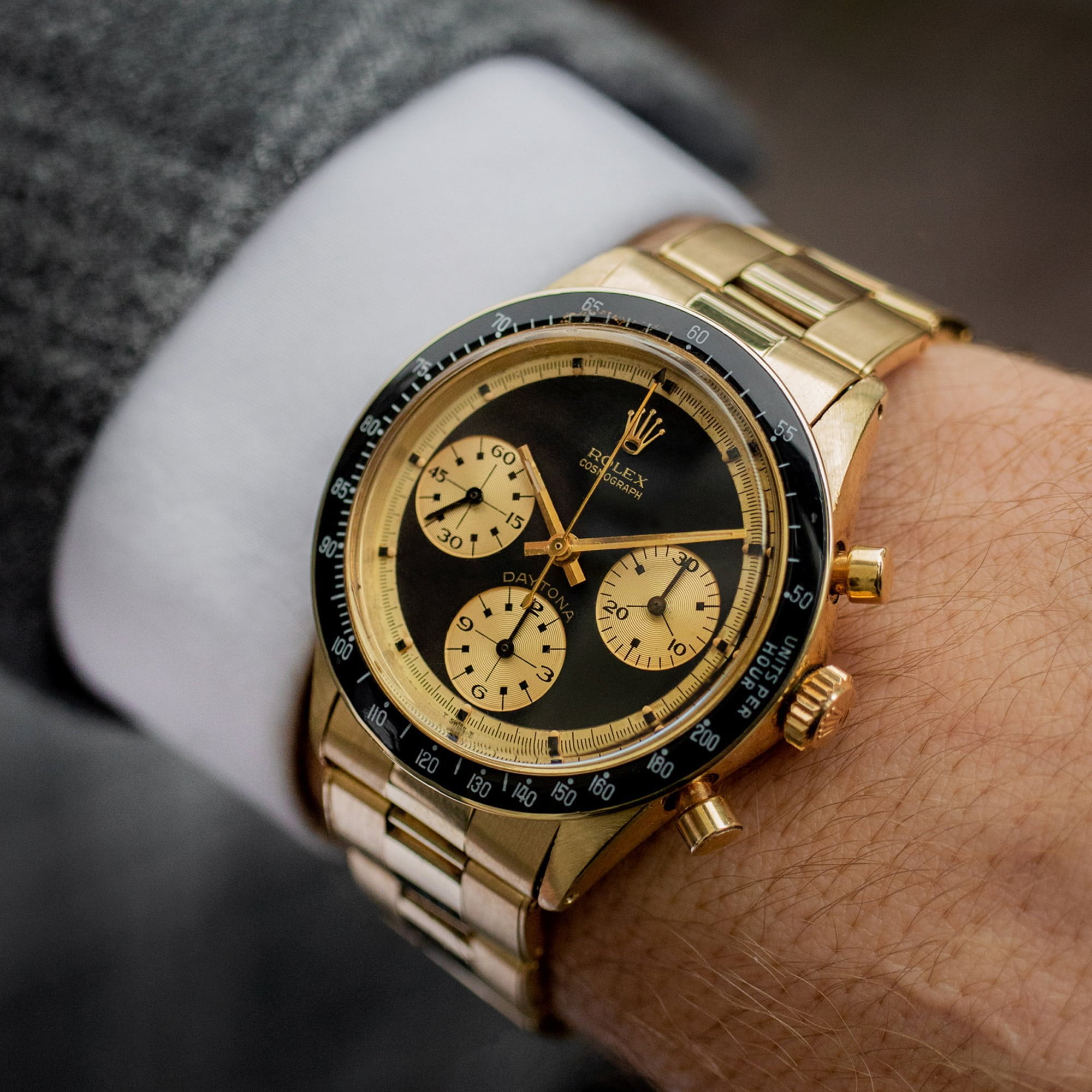 I almost never wear my Seiko JPS. It seemed nice on pictures, but it feels too light. That's typical of vintage watches, I guess, as modern watches are just better build, or at least more solid. I like the feel of a solid well-build watch on my wrist.
Also in the frame;
Typewriter - Princess 300 praesent. It's the gold plated version of the ordinary Princess 300. This was meant as a relationship gift for companies. Not many were made. I bought it last month from German Ebay. For some reason, during the last years I got convinced I needed a gold plated typewriter. Which is weird, because nobody really needs a gold typewriter. It's just capitalistic greed, I think. But well, I coudn't resist the urge and when I got the chance, I bought it without hesitating. It's complete with warranty, manual and proof of gold plating. It was sold in 1964, eight years before John Player Special started to sponsor racing cars, so there is no link between the JPS color scheme and this Princess Praesent in gold/black. Pure coincidence.
Model cars - Although John Player Special only sponsored Lotus and BMW (the Australian 635CSI JPS might be the coolest racing car ever), you can see the JPS livery on many other (model) cars, like this 1980s Porsche 911 Turbo (made by Siku) and even a Mercedes 500 SEC from the same period (made by Matchbox). The yellow windows make this Mercedes look even more aggressive. Here is a pic from the web of a BMW 635CSI:
Books - Anthony Casillo, Typewriters. This book is about the pictures. If you have it, go to pages 85 - 87, featuring an Oliver 1 from different angles. It's a work of art. I would gladly use all my savings and a kidney to buy a specimen, but it won't be enough. Okay, here is a snap shot of it, I hope the author won't mind (buy the book!).
Anyway, I included the book in the picture because it has a gold plated Princess on the cover. The other book in the frame needs no introduction, as it is The typewriter revolution, by Richard Polt. When it came out, I wrote a typewritten review of it. It must have been the last time I actually used a typewriter for more than a few quick sentences.

Number 1 - Seiko SBDX017, Marinemaster 300
After selling my typewriter collection in 2018, I got more into watches. I've never developed myself as a watch collector though, and I blame this Seiko Marinemaster. It's just perfect: nice lines, very solidly build, good heritage, not Rolexly overpriced and I feel I have something substantial on my wrist without bothering me. It's currently on an Angus Jubilee of Strapcode, but I alternate between various bracelets. My wrists are slim, but because the lug to lug distance is not that large, I can handle the watch without lug overhang. I bought this watch as one of the last of the SBDX017 in August 2018. Since than it's my daily beater. So much, in fact, that any other watch I buy is condemned to my watch box. Why would I wear my Hamilton Jazzmaster, Casio FW91w, vintage Seiko JPS or SKX007 when I have a far superior Marinemaster? For me, this is the one watch to rule them all.
Also in the frame;
Typewriter - Remington portable 1. I warn you, this is a sad story. Not for the faint hearted. In 2017, I found the earliest known Remington 1 portable typewriter, serial NC00099 (number 99 from October 1920). I even published an article about it in the Fall issue of Etcetera, see my blogpost about it with many pictures here. I was so happy with the machine and article! In 2018, I sold my whole collection of typewriters, including Remington NC00099, but I regretted it instantly. So, I kept on searching for a similar model, hoping to find, once, an even earlier specimen of the Remington Portable 1.
Fast forward to the beginning of 2021: scrolling though Ebay.com, suddenly I saw a Remington Portable 1 with all the early features. I bought it immediately without even knowing the serial number. After weeks of waiting it arrived at home. I checked the serial and, YES, it was NC00062; number 62 from October 1920! I took a few snap shots and put it safely on the shelf, far away from the hands of my children.
Next morning, I see a shelf on the ground and a bent and broken typewriter next to it. I hope this machine can be repaired once, but I don't know who can do it. Lesson learned: never put small screws in big holes in the wall.
Watches - On the right side you see my white Polar M430; it's a GPS running watch. I wore it during the Amsterdam Marathon of 2021 (in between two lockdowns). I have trained a lot last 6 years. Last year more than ever, having joined the local Athletics Club. It was all worth it though, because I nailed this marathon like I never did before. I started the first half in 1:23, and than accelerated, passing loads of other runners. I finished with a 2 minuted negative split in 2 hours and 44 minutes. I felt strong right till the end, it was an amazing experience. After the marathon I treated myself on a new watch; a Garmin 245 Forerunner (on the left). It's more accurate than my old Polar and has more training functions. On the picture below, you see me running the final 300 meters of the marathon, wearing my white Polar M430.
Model cars - I have always liked the big saloon cars of Mercedes. In 2013 I even bought a w123 230e from 1983. I loved driving it, but it was a constant fight against corrosion, so I got rid of it in 2016. In the frame you see a 450 SEL taxi version (Matchbox) and a blue 240D (Corgi).
Books - Pfitzinger and Douglas, Advanced Marathoning. If you ever feel like racing a marathon (not just finishing it), this is the book you should read. It comes with 12 and 18 weeks training schedules up to race day.

Okay, this was more text than I expected, sorry for that. Hope you liked it; all the best for 2022!